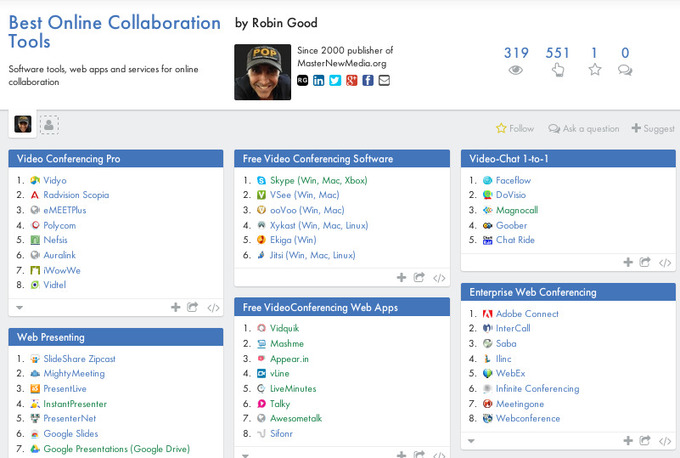 Software tools, web apps and services for online collaboration
Robin Good's insight:
If you are looking for a bird's eye view on what alternative collaboration tools are now available for different kind of projects and purposes, I do have what you are looking for.
The new Best Online Collaboration Tools 2014 directory is now public. It contains over 370 collaboration tools organized in over 25 different categories ranging from video-conferencing to screen-sharing, collaborative reviewing and many more.
The tools listed have all been checked and verified and represent my own personal census on what is available today for each one of the categories listed. There is no attempt (yet) to provide individual evaluations or recommendations, though I have tried to subjectively rank tools in each category according to their value and importance.
The directory is updated weekly.
New suggestions, comments and request for revisions and changes are highly welcome.
Free to use.
Try it out now: https://best-online-collaboration-tools.zeef.com/robin.good (370+ tools)
Previous editions: