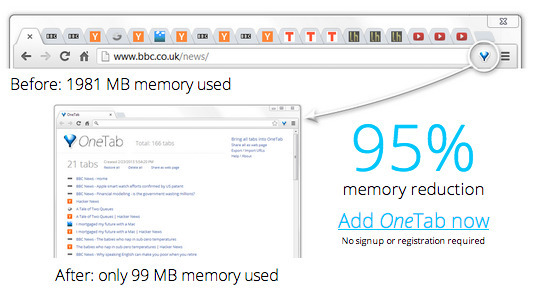 Robin Good's insight:
If you are a blogger, news reporter or better yet a content curator, you are certainly familiar with having so many tabs open in your browser, with interesting stuff to check out later, that your computer slows down to a crawl.
To avoid this common situation a new free Chrome browser extension comes to the rescue. It is called OneTab and it allows you to instantly memorize and save all of your open tabs into an orderly page in which they are listed, and re-openable at any time.
In the OneTab page where your tabs are all saved, you can re-order them in any way you want, group them, export them to other systems or even share them as a public web page.
Extremely useful. 9/10
Try it out now: https://chrome.google.com/webstore/detail/onetab/chphlpgkkbolifaimnlloiipkdnihall/reviews?hl=en
More info: http://www.one-tab.com/
Help: http://www.one-tab.com/help